Wallpaper
is a great way to add style and character to any home. Whether you are looking to give your living room a makeover or want to create a stunning feature wall in the bedroom,
wallpaper
can transform the look of any space. With the variety of colors, patterns and textures available, it's easy to find something that will perfectly suit your personal style.
With so many options, it can be hard to know where to start when it comes to choosing the right wallpaper for your home. To help you get started, here's a guide to how wallpaper can change your home.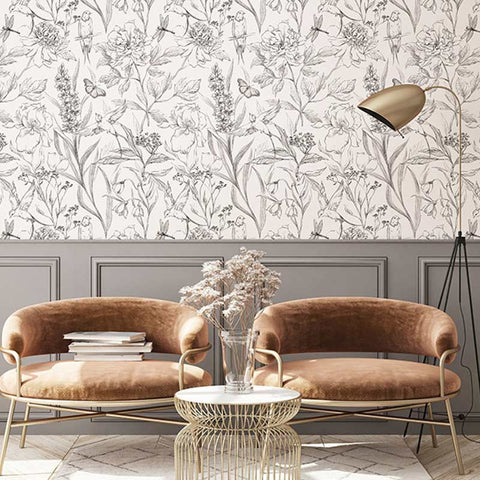 Wallpaper Adds Color and Personality
The most obvious way that wallpaper can instantly change your home is with color. Whether it's a bold and bright pattern or a subtle pastel hue, adding color to your walls can completely transform the look and feel of a space. Wallpaper can bring life to a dull room or provide the perfect backdrop to showcase artwork and furniture.
For a more subtle effect, choose wallpaper with a neutral base and add pops of color through accessories such as cushions, throws and rugs. This is an easy way to freshen up a room without having to make too much of a commitment.
Wallpaper Creates Unique Patterns
One of the great things about wallpaper is that it allows you to create unique and eye-catching patterns in your home. Whether you prefer traditional floral designs, geometric shapes or abstract prints, there's something for everyone. You can even use wallpaper to create a feature wall – try using a bold pattern or texture for maximum impact.
It's also a great way to add drama to a small room or draw attention to a particular area. Try using a large-scale print on one wall to create a focal point and balance it out with plain or textured wallpaper on the other walls.
Wallpaper Can Create a Theme
If you're looking to create a particular theme or style in your home, wallpaper is a great way to do it. From classic stripes and damask prints to modern geometrics and contemporary abstracts, there's a wallpaper design to suit any taste.
You can also use wallpaper to create a feature wall that ties together the colors and styles of the whole room. For example, if you have a vintage-inspired living room, you could use a classic floral print on one wall to bring the whole look together.
Wallpaper Is Easy to Install
One of the best things about wallpaper is that it's relatively easy to install. Most papers come in strips, so all you need to do is measure, cut and paste each strip onto the wall. It's important to take your time and follow the instructions carefully to ensure a neat finish.
If you're not feeling confident about doing it yourself, you can always hire a professional to do the job for you. This is especially recommended for larger rooms or more intricate wallpaper designs.
Wallpaper Is Affordable
When it comes to transforming your home's interior, wallpaper is often a cheaper alternative to paint. While it can cost anywhere from $10 to $50 per roll depending on the quality and design, this is usually still much less than the cost of painting a whole room.
Plus, wallpaper is generally easier to clean than paint, which means you won't have to spend time and money on ongoing maintenance. With proper care and cleaning, wallpaper can last for several years, making it a great investment for any home.
Wallpaper
is an easy and affordable way to transform your home's interior. From adding color and personality to creating unique patterns and themes,
wallpaper
can completely change the look and feel of any space. With the wide range of styles and designs available, it's easy to find something that suits your personal style. If you're thinking of giving your home a makeover,
wallpaper
is definitely worth considering.